Greetings Fellow Rotarians and Guests - Thanks for stopping by!
I'm Barry Rosenfeld, a member of District 5240's Rotary E-Club of One World. I represent our District on the Rotary Rose Parade Float Committee. Our float, which promotes Rotary to the world, received the Princess Trophy for the best float under 35 feet. I am attaching a couple of photos of the float as well as a photo of my wife Pat & I in front of the float. There is also a photo of me and RI President John Germ and lastly I am standing between my good friends, Jim Lewis and Randy Pote (PDG District 5300) at the Volunteer Check in desk in Pasadena.
"Today more than ever, the world needs to know and understand Rotary's impact and values of advancing international understanding, goodwill and peace," says Owori. "We are all too busy and we've lost our patience. Through friendship and service, membership in Rotary offers countless ways to connect and create meaningful change in your community, as well as opportunities to see the world through a more global lens."
During his one-year term as Rotary's 108th president beginning on 1 July 2018, Owori will focus on building membership worldwide and increasing visibility and understanding of Rotary.
One of the comments fom the website survey was that we were missing out on an opportunity by having the ClubRunner symbol appear on bookmarks instead of the Rotary symbol. This update describes how this comment was addressed.
Now our Club Banner will appear on Browser tabs automatically and members can add the banner on their respective devices too.
TWIN CLUBS
http://rotaryeclubdistrict5000hawaii.org/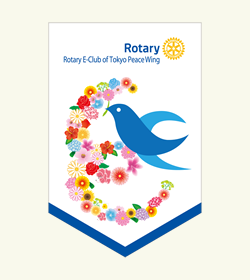 http://peace-wing.org/html/e-club/english.html
Panel: The Direction of Peace Studies, at the Rotary World Peace Conference in Ann Arbor Michigan, USA. from Rotary Club of Ann Arbor on Vimeo.
---